Hello Girls and Baby of Unknown Sex!
Back to our catch up of newsletters! This month mommy and Peanut finished up the semester (ending preschool and getting excited and nervous for kindergarten in the fall!) and we started spending every day together! It was stressful at times, but overall it's been a great change.
This meant that we started to do fun things like going to story time. The last time we went, Twig was just too nervous to go sit on the rug. Now though, you love it! You love to sit right next to Peanut or on her lap and Becca, the storytime teacher, is one of your favorite people.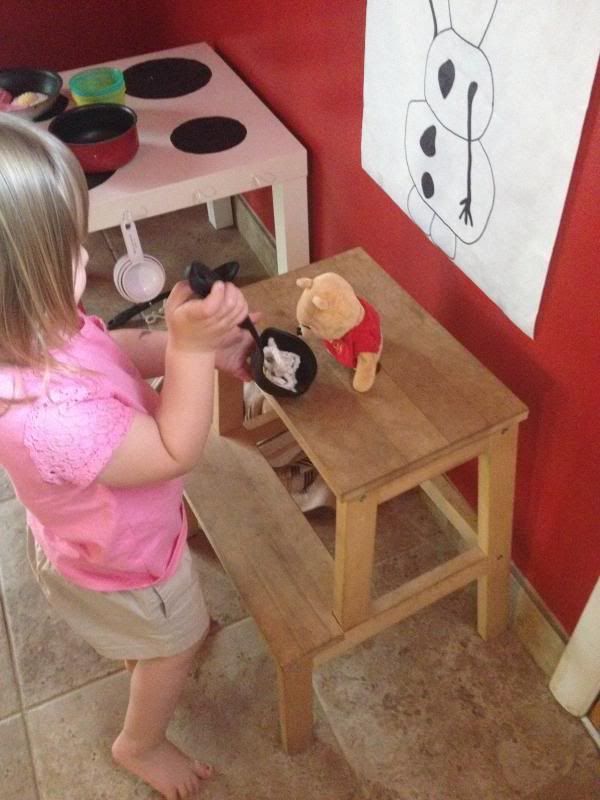 Speaking of books, you were obsessed with Green Eggs and Ham. All Dr. Seuss books are great in your eyes, but we read Green Eggs and Ham EVERY night before bed. You also adore Winnie the Pooh in any form.
We started giving you allowance this month too. I wasn't planning on starting so soon, but you get upset every week when Peanut would get hers, so I finally gave in and let you get it too. You definitely don't get it like Peanut does, but it's only $1 a week anyway (half your age) and 25 cents goes into your piggybank. You surprised me though and actually bought something you really love, which was a tea set. You had a little jump start to your allowance with the money from Easter (just change that we put in the eggs) so you actually had enough to get a secondhand porcelain tea set. You still play with it all the time too (though a few pieces have been hot glued now). Speaking of Easter, you were awesome with it this month Peanut. We asked you not to grab every egg you found so your sister could find some too. You took this as you should help her find eggs. And not only that, but you alternated back and forth with every egg between you finding it and Twig "finding" it. It was so cute and considerate of you!
This month I asked you what you want to be for Halloween so I could get started on costumes before Banana was born. I asked you this month so you could have some time to decide, but you immediately decided you wanted to be Merida from Brave and you stuck to it! For a moment you pondered being a hobbit, but it was only a fleeting thought. You even talked Twig into going as one of the little bears, so we're doing a full Brave themed family costume! More details to come. :-)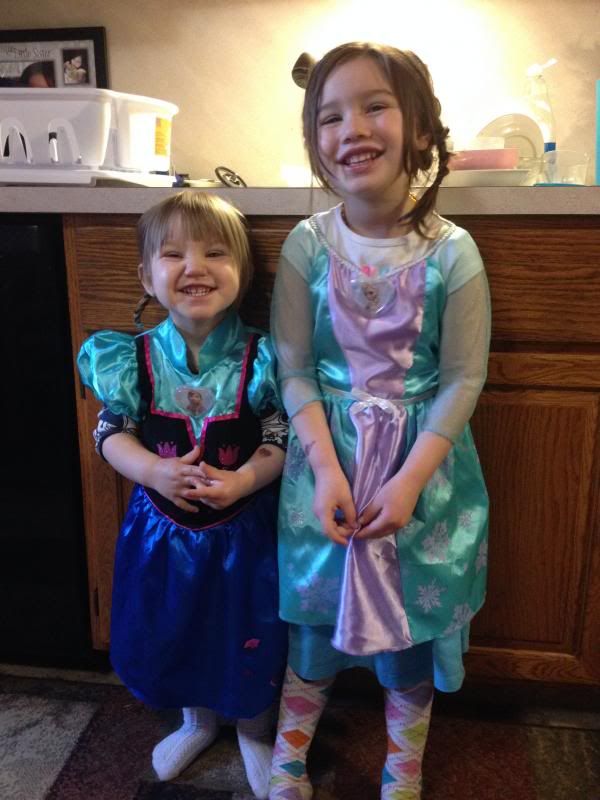 Another great thing this month is that I felt you move on the outside Banana! That also meant that your sisters and daddy could feel you of course. Problem is that you just would not kick Peanut! She was so excited to feel you, but every time that I got her to come over you'd stop kicking! We told her that you just loved her too much to kick her. We also had an ultrasound to check on you (after our bleeding scare in the beginning of mama's pregnancy, I needed the reassurance) and continued to not find out your sex.
Well that wraps up the month of April! Love you all!
Mama